Archief voor de 'Off road' Categorie
Hier een leuke video van een offroad cursus voor zware all-roads, niet echt een instructie, maar wel leuk om te zien:
Jun 4, 2013 Off road, motorvakanties
In de Alpen kun je nog een mooie offroad route rijden. De kunst is natuurlijk om de juiste plekjes weten te vinden. Omdat je niet overal in de Alpen offroad mag rijden is het handig om vooraf te weten waar het wel en waar het niet toegankelijk is. Helaas kent Duitsland geen Streetview en wordt het redelijk lastig om online de juiste informatie over offroad routes door de Alpen te vinden.
Denzel's Alpen routes
Hele mooie Alpen Offroad routes vind je in het boek van Denzel.
Denzel neemt je mee over de mooiste en fraaiste routes door de Alpen. Zowel asfalt als offroad. Het boek wordt regelmatig geupdate (als het goed is). Bespaar jezelf veel gezoek en gepuzzel (al heeft dat ook wel zijn charmes) en koop dat boek. Ook handig om mee te nemen op vakantie. Je koopt het voor de prijs van een tank benzine. Dus waar hebben we het over:
Bestel het boek snel en voordelig bij Bol.com
May 25, 2013 Off road, motoraccessoires, motorvakanties
Een Camelbak is de oplossing om tijdens een motortocht je vochthuishouding op peil te houden. Is dat nodig dan? Niet altijd, maar er zijn situaties waarbij je ongemerkt veel vocht verliest tijdens het motorrijden. Denk bijvoorbeeld aan een intensieve allroadtocht, of aan je motorvakantie in een Zuid-Europees land met voor de veiligheid je volledige pak aan.
Vooral als je met een groepje op pad bent en niet om de haverklap kunt of wilt stoppen is de Camelbak of drinkzak een ideale manier om eenvoudig een slokje water te pakken wanneer jij daar behoefte aan hebt.
Camelbak – bekendste drinkzak
De Camelbak is zo'n beetje het bekendste merk drinkzak op dit moment. De drinkzakken worden gebruikt door de landmacht, afstandsporters, hikers en eigenlijk iedereen die in beweging is en door weersomstandigheden of intensiviteit van hun lichaamsbeweging regelmatig behoefte aan een slokje water kan hebben. Er zijn heel veel verschillende modellen te krijgen met of zonder bagageruimte en natuurlijk in verschillende maten en kleuren. De maximale waterinhoud van de verschillende Camelbakmodellen loopt van 1.5 tot 3 liter.
Prijzen Camelbak
De prijzen van de genoemde Camelbak drinkzakken zijn uiteraard afhankelijk van model en de webshop waar je hem koopt. Hieronder zie je een aantal modellen die veel door motorrijders worden gekocht.
Waar koop je voordelig een Camelbak
Omdat er elk jaar weer nieuwe modellen komen verwijs ik hieronder naar een aantal betrouwbare webshops waar je tegen scherpe prijzen Camelbaks kunt kopen in diverse soorten en maten.
Apr 22, 2013 Off road
Vastzitten met je motor, wat doe je dan?
Hieronder het verhaal van Radek Burkat die in een afgelegen gebied in Canada komt vast te zitten op een helling. Lees hier hoe hij zich hier uit weet te redden:
Border Peak Solo Ride (a story by radek, once found on chainslayer.com)
by radek
Posted: Jan 19, 2010
I heard someone say, "If you're dumb enough to ride alone, you better be tough".
This is my story of an awesome, lone adventure that almost left me stranded in the middle of nowhere, with no way back but a very, very long walk.
Detailed pics and story inside,
I'll admit it. I love riding solo. There is something about knowing that if you screw up, you have much less of a safety net. It's not about having a death wish or doing something stupid. In fact, when I ride solo I pay attention a lot more, calculate the risks further, and feel like all my senses are heightened as danger is all around. Maybe it's the fact that you are putting safety in your own hand, and your hands alone, that adds flavour to the experience.
It started off as one of those days where you have a productive morning, but half way through the day you start itching for something to do, or somewhere to go. I'd spent the day before riding with my buddy Rusty in the Chilliwack Lake area. We were exploring old trails right on the US/Canada border, probably even crossing back and forth between the two countries. It's a really cool area with a massive network of trails.
I fired up google earth and started browsing the area. This is the tool that I use often to plan my next expedition. Zoom in on satellite view, and start following potential trails and roads. You can also view it in 3D mode trying to find a pass across one range to the next, or to find a way to get on top of a ridge or mountain.
Check out these next two photos which show you the ability to plan your ride.
I had saved photos of the satellite imagery on my iphone since I knew that I would be in a place with no cellular data coverage. This is a very easy thing to do. If you are running google earth with a connection and viewing the area on the phone, at anytime you can click the home and off button simultaneously, to snap a screen shot of the app currently running. This saves that image it to your photo roll for fast and easy retrieval later without the need for network coverage. Sometimes the offline cache on google earth can be used too, but with less reliable results.
Armed with all this technology, what could go wrong!
I loaded my bike up in the truck and headed out on the highway to try to get a little closer to my off road destination. Taking the Chilliwack Lake road I made it to a spot that was close to the trail head of a network of gravel roads which I could use to make my way out into the backcountry. It was mid day, so I knew with the late fall hours I would have less day time than I'd like . Some basic provisions of peanuts, water and a coke for good measure and I headed off. The 3 gallon tank on my KTM 450 would give me plenty of range. I always carry my KTM tool kit in my Dakine pack in case something mechanically goes wrong with the bike. It's a KTM, nothing ever goes wrong.
The saved imagery came in handy as I picked turns at what seemed random until I was sure I was on the right path. The old logging road was really fun to ride on. Lots of hard washouts and slides took out many sections of the road which registered in my mind that no trucks or cars can reach the area where I'm going. I ended up going through about 10 separate sections that removed the whole road to the river below and forced the rider around a goat trail, balancing for safety.
Riding for quite a while at a fast pace I was starting to think that I may be on the wrong trail so I got off the main road and headed for some high ground to get my bearings. I had spotted my destination.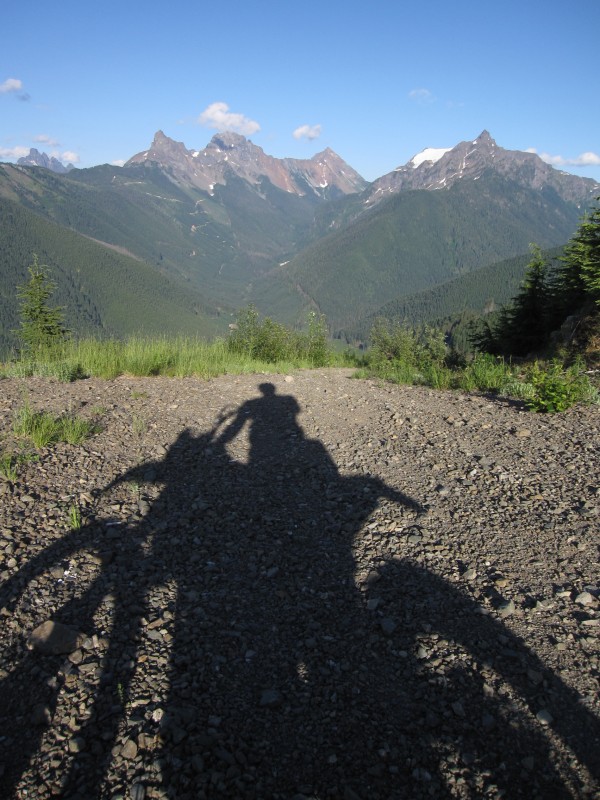 Border Peak straight ahead
I was on the right track but the maze of trails was hard to decipher. It's easy to see the path from high ground, but when you're on the valley floor, and every fork looks the same, it's a challenge. I had a fast bike and I was having fun, so I took every fork and exhausted every possibility till the right one remained. The whole time I did not come across another human, motorized or not. The blown out roads at the start must be a barrier to most weekend riders. This all added to the excitement. I always think that I'm exploring and riding in places that no one has visited for quite some time. Maybe around the next bend is an old mine shaft or and old village from a 100 years ago. The road started to get steeper and large rocks made the climbs tough and I was sure no one visited this area for some time. I just might discover that lost village after all.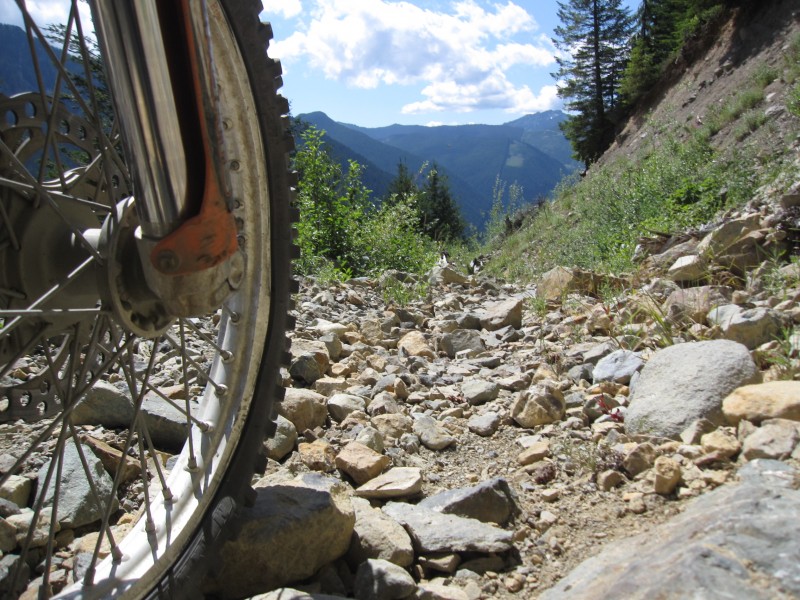 Larger rocks. I'm running Bib-Mousse in my tires so I'm not too worried about flats
This went on for some time. Up and down and fast and slow. I always ride pretty defensively, especially when alone, but I have some fun too. Opening it up on some straight sections and realizing last second that there is a massive washed out drainage ditch across keeps the fun alive. You can hit the brakes or speed up to launch across. I chose air for the first two, until the third one is even larger and I barely make it, bottoming out hard, but keeping it together. Time to settle down a bit.
I took another turn and saw another slide obstructing the road. Lots of rocks and large fallen trees tangled in an unstable mess. I thought about going right, through the loose rocks and under some logs, but the "spidey" radar kicked in and chimed that route may not be that safe. The alternate path was across some fallen trees on the edge of the road. Normally such an obstacle is no big deal and I would not even think twice, but I am alone and pretty far away. Quickly glancing to the left I notice that it's steep with no real room for error here. I make all these calculation as I roll up to the obstruction and decide to proceed hopping the first two logs. No problem. I come up to the larger one and for some reason I stop. Maybe I should take some extra care here. After all no one is watching so I can help my bike over just this once! I get off and start to walk my bike over the log. I get the front tire over and then high center the bike on the skid plate. Another gentle heave and that should do it. As I push, the ground I'm standing on gives way and I start to slide down the embankment. I'm still holding on to the bars so I push the bike towards the road and let go. I fall even faster but I see that the bike is balanced, high centered on the log. Lucky. That would suck if that bike fell with me. I start scrambling up the loose slide and suddenly the bike teeters and falls towards me. I jump out of the way, but grab a wheel to rescue the bike as it slides past. In a second it was all over.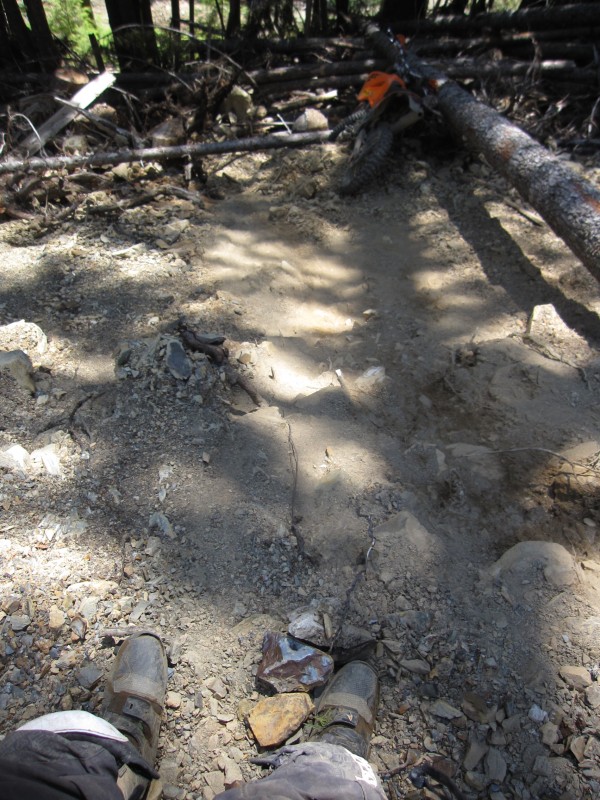 Bike hanging on by a bark buster
I stay completely still, and try to asses the situation. I got smacked on the helmet with the bike, but I'm ok. A quick systems check and all body parts are functioning, no blood, and no injuries. Everything has come to rest as the dust cloud settles in the complete quiet of the forest. My heart is really racing and I'm computing the situation for danger and the exact next steps needed to not make this situation any worse. I notice that I'm still holding on to the bike, and it's about to fall even further. I decide that I can secure it quickly by attaching the right bark buster on a knot on the log. It's pretty lame, but I want to get out of the area and check the stability of all those logs that can potentially come down on me.
I crawl up the hill, treading the loose sand, and reaching for the safety of hard ground. I look around, check things out, and sit down for a couple of minutes. Oh boy. What have I gotten myself into? Taking a little time, I think….what is the worst that has just happened here.
A) Worst case. I have a LONG walk back, and return with some buddies the next day for my bike.
B) Better case. Maybe I can get this bike out of here.
It does not even look that bad. I have ripped up hills bigger than that before and attacked obstacles way worse than this. The first thing to do was to make a walk way to the bike on the side of the hill. The pictures don't do it justice but this is pretty steep and the loose sand on the slope makes everything more difficult. Once I make it to the bike, I lay down some logs to further secure the bike from falling in case something slips. I place some flat wood behind the bike that will act as a ramp for me to pull it up. That all seems like a great plan, but once I attempt to move it across and up the hill I can't move it a foot. The slope I'm trying to move it up is too step, and there is just no way to turn it around without a high chance of it slipping down another 30 feet. At this point I wished I had a rope. Not to try to pull it up with, but to be able to secure it and possibly ratchet it up in place as I pushed the bike up. Unfortunately I had no rope.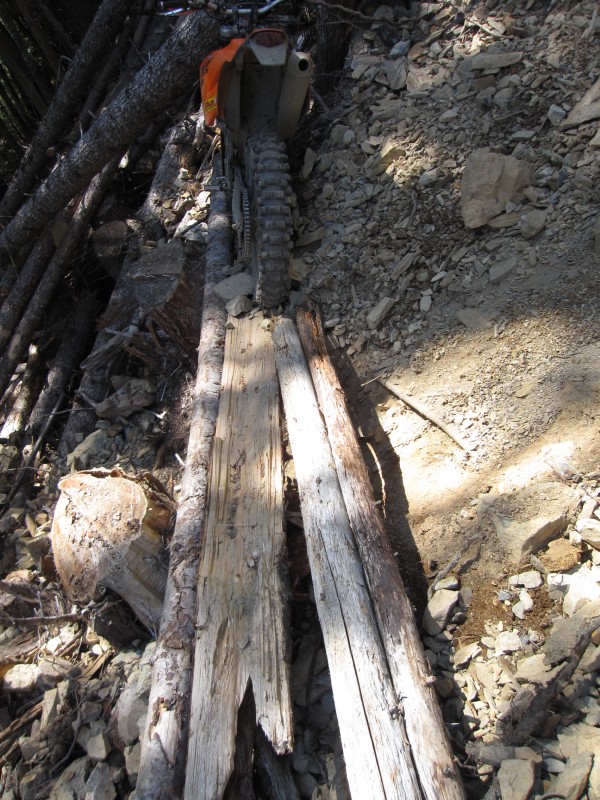 Secured Bike
This just isn't going to happen. The bike is too heavy for me to budge. Maybe if I take off the big 3 gallon tank and make the load a little lighter.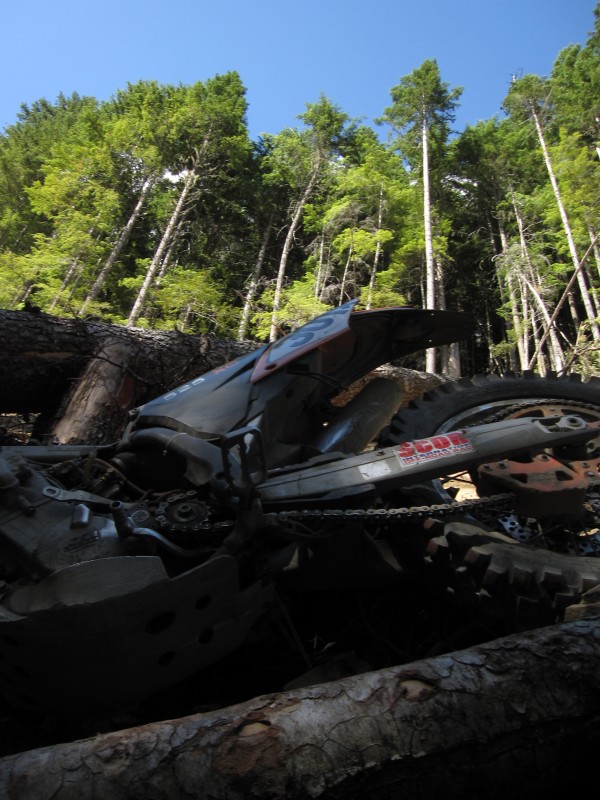 Removed the tank and seat to lighten the load
Still no go. That Baja Designs light is pretty heavy too, so lets get rid of that as well. The front wheel could come off as well. Taking off the front wheel was pretty unnerving. In that position, most of the bike weight was supported by the front wheel, and if you ever tried to pull an axle under load you know how tough it can be. Hauling just the front wheel up this slope was hard so it was nice to think that my job was a wheel lighter now.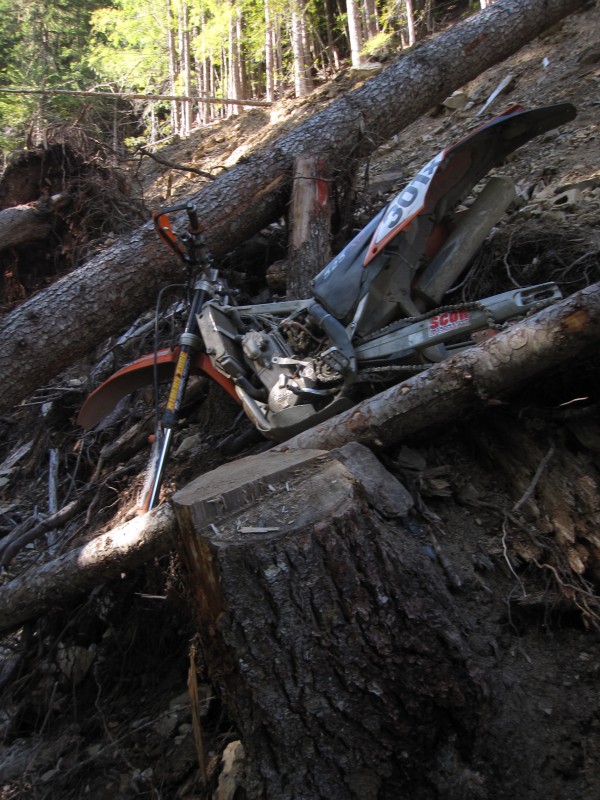 Front wheel off
Since I have one wheel off, I might as well take off the other. Those things are heavy. The rear wheel was right up against the dirt and there was no moving the bike out of the way. The axle needed to be pushed out towards the inside and this was a bit of a problem. I had to dig a hole a foot deep so that I could push the axle through and remove the wheel.
A couple more attempts at moving the bike in this state and still no progress. By now I was covered in sweat with a thick coating of dirt. I was digging, excavating, and crawling on my hands and knees moving parts up that hill. I had plenty of water and even though I was working hard, I was in good spirits having and enjoying the process.
Next came the fork legs. I took the legs out of my bike before to change the oil and I remember how heavy those are. I started loosening the fork bolts with my trusty T-handle KTM tool when I slipped and the 10mm socket dropped off the tip of the tool and fell 50 feet down the slope into a sea of rocks, logs, and foliage. Oh shit! Are you kidding me? Up to this point I was taking steps carefully to make sure they would not get any worse, and now I just screwed up. I did have a 10mm wrench but unfortunately on a couple of the fork bolts you just can't get the 10mm wrench in there. Such a seemingly simple thing that I did not even think about it. The socket was gone, and this would be the end of my adventure if not for the fact that…I had a spare 10mm socket! Yup, in my little tool pouch I just happened to have another one of those little suckers. I continued the process but this time was much more cautious. I would hang on to the t-handle and the socket at all times. Turning only a 1/4 turn to make sure that no piece could fall. This was just like rock climbing, where you always maintain 3 solid points of contact. That meticulous process continued until the forks were removed and the tools placed on ledges of rocks gently and securely leaving nothing to chance.
Finally I was able to budge the frame and the motor from its place. It took all of my strength and I started to drag the body up the slope. I would pivot the mass on the handle bar and wiggle the swing arm up. Then wedge the swing arm in the dirt, and move the upper part of the bike up. All my early work of building a pathway and a safety barricade out of logs was paying off. I could push off the logs to put force on the bike from the bottom. The barricade would also catch me several times as I started to slide down on all fours.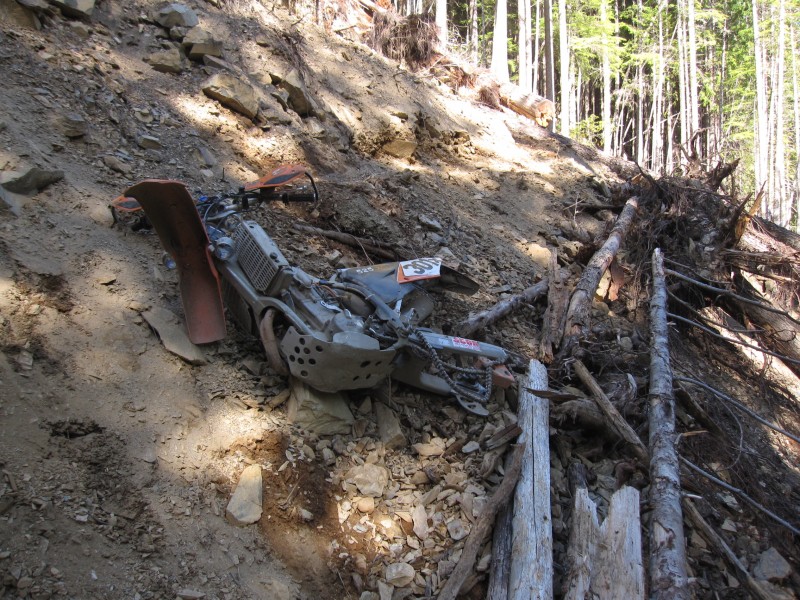 Dragging the body up
Some time later I had managed to free my bike pieces from the predicament.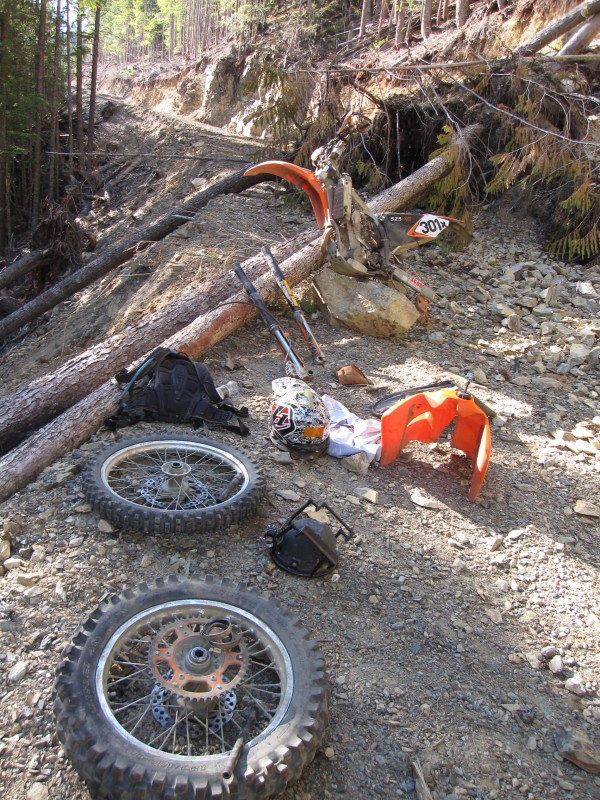 Everything up at the top
I took some time to marvel at what just happened and stare at the beautiful views that were around me.
From here on it was simple. Armed with my t-handle I proceeded to assemble things quickly. I dragged a big boulder over and used it as a handy natural bike stand.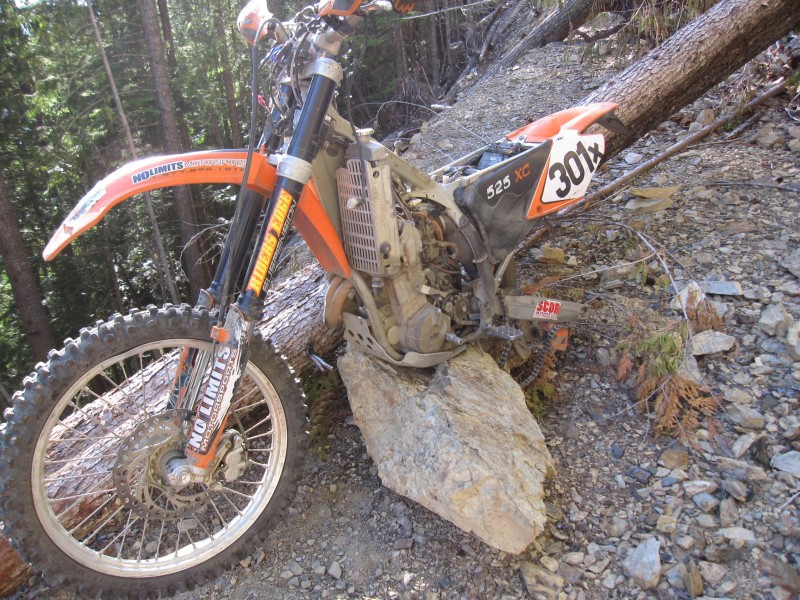 Front on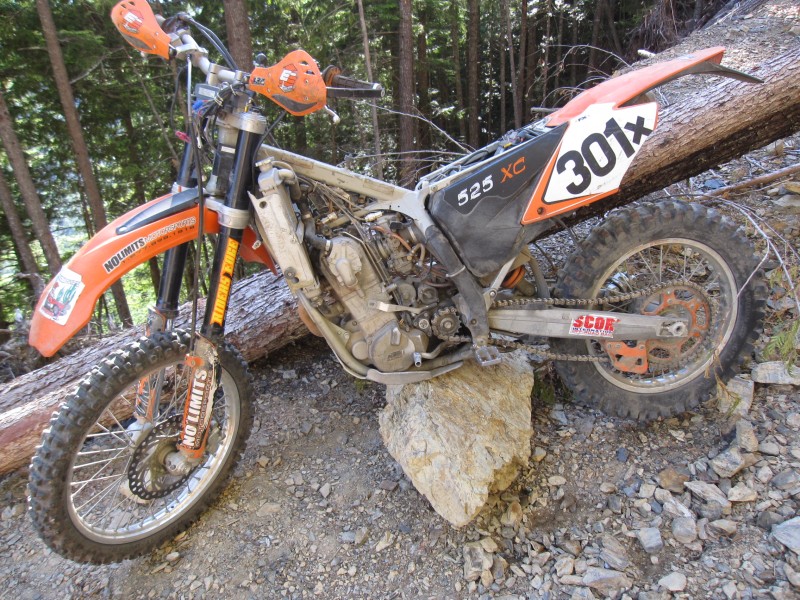 Rear on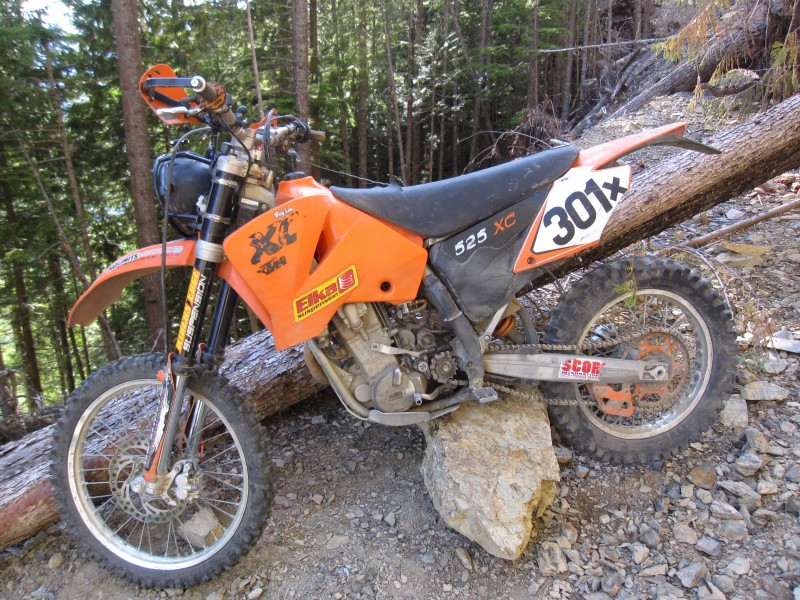 Bike Complete..
The assembly went without any issues. All those times that I tinkered with my bike at home, taking it apart and putting it together finally paid off. The moral here is that every rider should take some time to work on their bike. It's not that it's complicated, but the experience allows you alternate choices in situations where mechanics come into play and you have to asses what you are comfortable with doing. In this situation I had no fear about taking things apart because I had done so before and I knew that I could easily reassemble it.
From the time I got stuck to the time I was ready to ride, 4 hours had passed.
At this point most people would decide that enough is enough. Disaster averted, lets go home. Wrong. This was fun. This was a little accident, a stumble, a freak of nature. No need to have it spoil your day. If you look at the photo above, you realize that I'm on the side that I started. My destination was on the other end. I put on my gear, packed up my tools, strapped on the helmet and started the bike. Took it for a little spin to make sure everything was firing correctly and proceeded to cross those same obstacles that took me out. Don't get me wrong, I had some reservations. I think there is a natural sense or sanity check that rings alarms and asks you not to do what you are about to do. You just have to take that fear and put it in the back of your mind and bring out the confidence that you normally have if this incident did not happen. I proceeded towards the obstacle again. This time I did not flinch or get off the bike, just a natural hop over each section and it was a success. You can imagine that it felt amazing. Self sufficient to overcome such a set back really puts wind in your sails.
I'd like to tell you that it was all clear from there on, but the challenges were not over. The road was rough.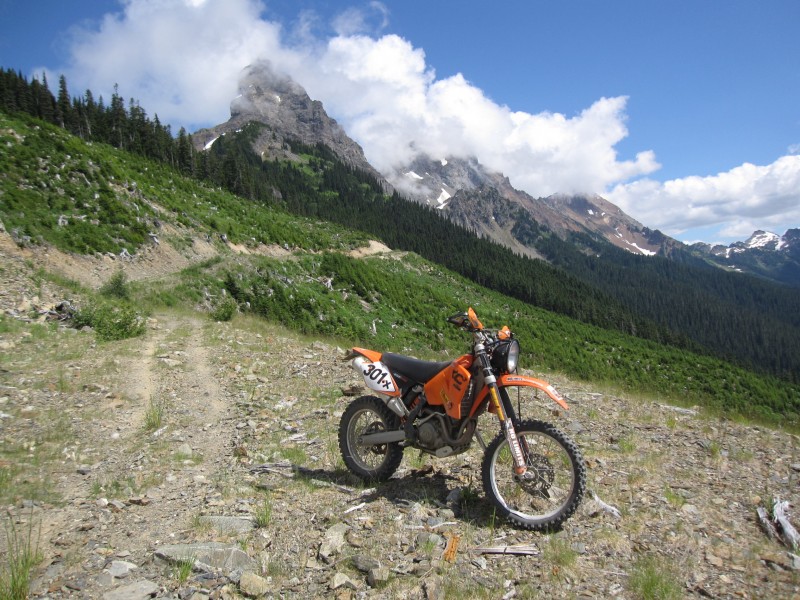 Steep and loose
Sometime later and it let up. Beautiful views started to appear.
And after some more time you reach the destination. Eventually this path took me right to the alpine. Riding on a ridge of a whole mountain range where you could see both sides. I got so close to the peak that I was almost in the clouds. It was the perfect reward for what I had gone through.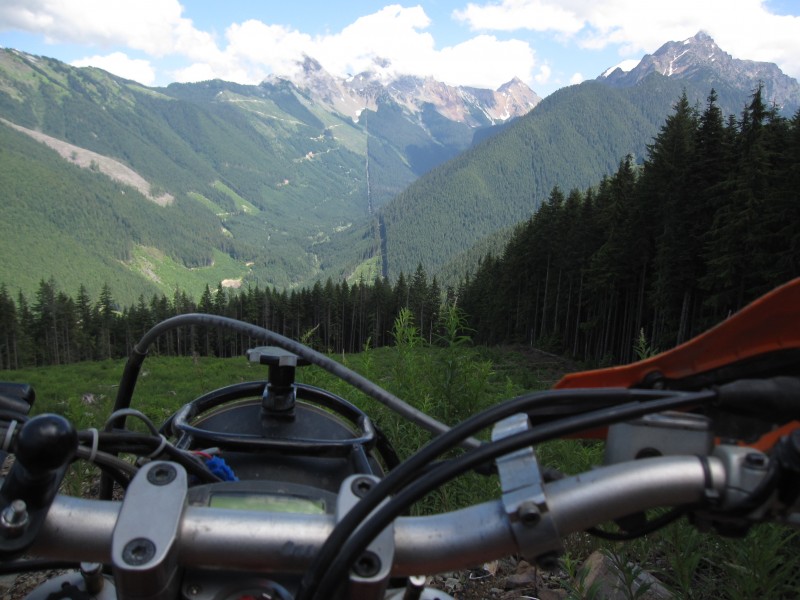 Finally right at the base of Border Peak
The bike was a trooper also. Stripped, dragged through sand, it did not skip a beat and reliably pushed onward to amazing heights. (Oh did I mention this is the same bike and engine that we used in the Baja 1000 last year)
I barely explored the ridge, but decided that the day was getting short and I needed to head back.
On the way back, as the sun was starting to sink, I took another look back at the Border Peak. To some this type of incident may be a horror or a day gone bad, but I have to say that this was one of my most enjoyable riding days ever. In today's world of communication and technology it's hard to find real adventure. Sometimes all we need is to pull ourselves out of the safety net and adventure finds us.
I have to return to this place. Maybe next time with some friends.